Notice: The current evaluation report is intended solely for the purpose of soliciting comments. The team kindly requests your valuable feedback and suggestions. We are committed to continuously revising the report based on the available evidence.
Background
From drug evaluation to AI assessment, and from business and finance benchmarking to social program evaluation, the significance of evaluation and benchmarks cannot be overstated, particularly in safety-critical, mission-critical, or business-critical contexts. The Bench100 initiative aims to recognize the most notable accomplishments in the domains of evaluation and benchmarks across diverse disciplines, including medicine, economics, social science, computer science, and psychology. With contributions from 462 distinguished individuals, including six Nobel Prize and five Turing Prize laureates, Bench100 not only acknowledges exceptional evaluation and benchmarking efforts but also serves as a guiding compass, navigating the intricate landscape of technological evaluations and progress.
In the annual ranking selection, the evaluation of large language models garnered widespread attention, particularly the intense comparison and competition between Chinese and English datasets. In the field of education, influenced by the COVID-19 pandemic, the assessment of online learning effectiveness has become increasingly important. In the medical field, digital healthcare, as an emerging force, has risen rapidly, with the widespread application of machine learning technology in clinical assessments highlighting its significance.
Evaluation Standards
We have highlighted noteworthy evaluation and benchmark achievements spanning from 2022 to 2023, those already making a substantial impact or poised to do so in the near future. Our selection criteria are as follows:
Original or pioneering contributions in the fields of evaluation and benchmarking;
Evaluation and benchmark achievements that have garnered increasing recognition, such as receiving high citations on Google Scholar;
Evaluations and benchmarks that significantly contribute to the advancement of related software and hardware.
By adhering to these evaluation criteria, we aim to showcase the most influential and impactful evaluation and benchmark works, providing guidance and inspiration for advancements in various disciplines.
Bench100: Top 100 Benchmarks & Evaluation achievements (2022-2023)
Overview of Top Bench achievements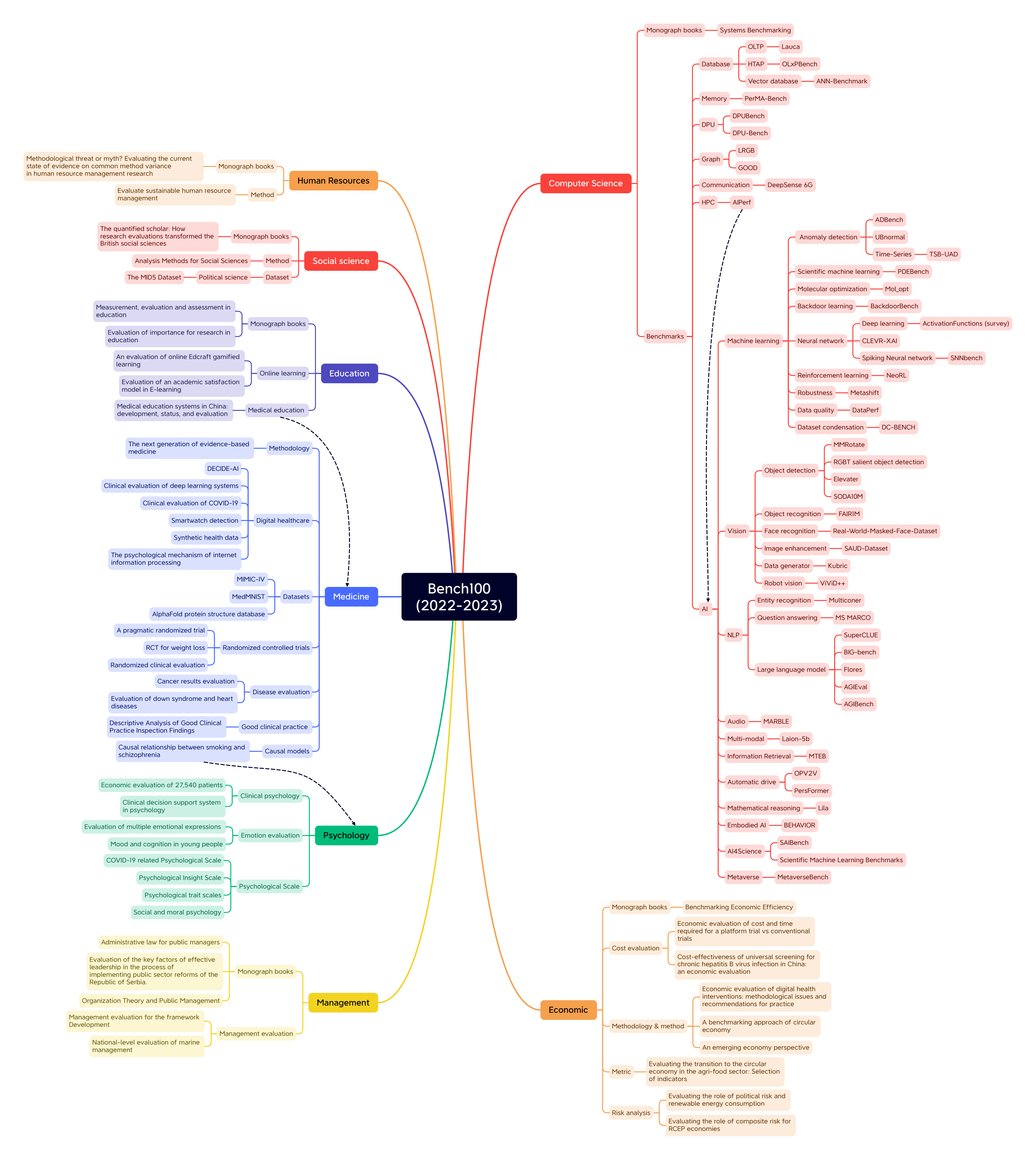 When considering the main contributors, we will only include the following in the list:
the first author and second author (including the authors with equal contribution)
the corresponding author (the last author if there is no corresponding author)
If you have any comments or suggestions regarding the list, please feel free to email us at benchcouncil.evaluation@gmail.com.
Top Bench Contributors
| Contributor | Institution | Country |
| --- | --- | --- |
| Aarohi Srivastava | University of Notre Dame | USA |
| Abbas Mardani | University of South Florida | USA |
| Abhinav Rastogi | Google | USA |
| Abhishek Rao | Google | USA |
| Ah Choo Koo | Multimedia University | Malaysia |
| Ahmed Alkhateeb | Arizona State University | USA |
| Ahmed Osman | Fraunhofer Heinrich Hertz Institute | Germany |
| Aldo Alvarez Risco | Universidad de Lima | Peru |
| Alex Junho Lee | KAIST | Korea |
| Alexander Faithfull | IT University of Copenhagen | Denmark |
| Alexander Scheiter | University of Regensburg | Germany |
| Alistair E.W. Johnson | MIT | USA |
| Amit Goldenberg | Harvard University | USA |
| Ana Catarino | ieso | UK |
| Andra Acsintoae | University of Bucharest | Romania |
| Andrea Tagliasacchi | Google | USA |
| Andrei Florescu | University of Bucharest | Romania |
| ANNA ROGERS | University of Copenhagen | Demark |
| Anne-Katharina Deisenhofer | University of Trier | Germany |
| Anqi Li | Westlake University | China |
| Ashwin Kalyan | The Allen Institute for AI | USA |
| Asil Ali Ozdogru | Turkish Ministry of Health | Turkey |
| Baojin Huang | Wuhan University | China |
| Baoyuan Wu | The Chinese University of Hong Kong_Shenzhen | China |
| Baptiste Vasey | University of Oxford | UK |
| Behnam Shari | McMaster University | Canada |
| Benjamin Michalowicz | The Ohio State University | USA |
| Bidyut Baran Chaudhuri | Indian Institute of Information Technology | India |
| Bingbing Ni | Shanghai Jiao tong University | China |
| Bradley A. Malin | Vanderbilt University Medical Center | USA |
| Brian Schwartz | University of Trier | Germany |
| Cade Gordon | Gentec Data | USA |
| Camelia M. Mihaescu | European Medicines Agency | Netherlands |
| Cem Gokmen | Stanford University | USA |
| Chao Yan | Vanderbilt University Medical Center | USA |
| Chen Wang | Stanford University | USA |
| Cheng Wang | Xiamen University | China |
| Chenglong Li | Anhui University | China |
| Chengshu Li | Stanford University | USA |
| Chenmian Liu | Qilu Hospital of Shandong University | China |
| Chenxi Wang | ICTCAS | China |
| Cho-Jui Hsieh | University of California Los Angeles | USA |
| Chonghao Sima | Shanghai AI Laboratory | China |
| Christian Baden | The Hebrew University of Jerusalem Mount Scopus | Israel |
| Christian Pipal | University of Amsterdam | Holland |
| Christoph Höchsmann | Technical University of Munich | Germany |
| Christoph Schuhmann | LAION | USA |
| Chunjing Xu | Sun Yat-Sen University | China |
| Chunyuan Li | Microsoft | USA |
| Colby Banbury | Harvard University | USA |
| Connor W. Coley | MIT | USA |
| David H. Rosenbloom | New York University | USA |
| David M. Harmon | Mayo Clinic College of Medicin | USA |
| Demis Hassabis | DeepMind | UK |
| Deniz Oruc | Usk€udar University | Turkey |
| Dervis Kirikkaleli | European University of Lefke | Turkey |
| Dhabaleswar K. Panda | The Ohio State University | USA |
| Diego Real de Asúa | Hospital Universitario de La Princesa | Spain |
| Elizabeth Murray | University College London | UK |
| Erik Bernhardsson | Better Inc | USA |
| Fei Tang | ICTCAS | China |
| Feng Shao | Ningbo University | China |
| Flavio Azevedo | University of cambridge | UK |
| Francesco Pacchera | Tuscia University | Italy |
| Francois Belletti | Google | USA |
| Frederik Hierl | Bavarian Center for Cancer Research | Germany |
| Gabrael Levine | University of Texas at Austin | USA |
| Gabriella Arcese | Niccol`o Cusano University | Italy |
| Ge Zhang | Beijing Academy of Artificial Intelligence | China |
| Glenn Palmer | The Pennsylvania State University | USA |
| Gouranga Charan | Arizona State University | USA |
| Guoxin Kang | ICT CAS | China |
| Hailiang Huang | Shanghai University of Finance and Economics | China |
| Hainan Ye | ICTCAS | China |
| Haitham M. Alzoubi | Skyline University College | UAE |
| Hao Xiang | University of California Los Angeles | USA |
| Haotian Liu | University of Wisconsin_Madison | USA |
| Hongrui Chen | The Chinese University of Hong Kong_Shenzhen | China |
| Huaming Song | Nanjing University of Science and Technology | China |
| Hyun Myung | KAIST | Korea |
| Iris E. Beldhuis | University of Gronigen | Netherlands |
| ISABELLE AUGENSTEIN | University of Copenhagen | Demark |
| James Cross | facebook | USA |
| James Raftery | University of Southampton | UK |
| James Zou | Stanford University | USA |
| Jay J. H. Park | McMaster University | Canada |
| Jenn W Sellers | United States Food and Drug Administration | USA |
| Jeong Hoon Lee | Kwangwoon University | Korea |
| Jessica Deng | University of New South Wales | Australia |
| Jesús T. Pastor | Universidad Miguel Hernandez de Elche | Spain |
| Jeyan Thiyagalingam | Rutherford Appleton Laboratory | UK |
| Jiancheng Yang | Shanghai Jiao tong University | China |
| Jianfeng Zhan | ICT CAS | China |
| Jianhua Han | Huawei | China |
| Jiaqi Ma | University of California Los Angeles | USA |
| Jie Feng | Qilu Hospital of Shandong University | China |
| Jie Fu | Beijing Academy of Artificial Intelligence | China |
| John J. Alam | EIP Pharma Inc | USA |
| John Paparrizos | University of Chicago | USA |
| Jonas Schöne | University of Oxford | UK |
| Jonathan R. Tompkins | University of Montana | USA |
| Joseph M Peill | Imperial College London | UK |
| Josiah Wong | Stanford University | USA |
| José L. Zofio | Universidad Autónoma de Madrid | Spain |
| Jozine M. ter Maaten | University of Gronigen | Netherlands |
| Juan Aparicio | Universidad Miguel Hernandez de Elche | Spain |
| Juan Pablo Pardo-Guerra | University of California San Diego | USA |
| Juan Ye | Zhejiang University | China |
| Junchi Yan | Shanghai Jiao Tong University | China |
| Justin Cui | University of California Los Angeles | USA |
| Jóakim von Kistowski | DATEV eG | Germany |
| K. ANU SOPHIA | PESSE | India |
| Kai Jin | Zhejiang University | China |
| Karina Grunewald | University of New South Wales | Australia |
| Katie E Trinci | Imperial College London | UK |
| Ki-Baek Lee | Kwangwoon University | Korea |
| Kin Meng Cheng | Multimedia University | Malaysia |
| Kishwar Nawaz | University of Orleans | France |
| Klaus Greff | Google | USA |
| Klaus-Dieter Lange | Hewlett Packard Enterprise | USA |
| Kun Fu | AIRCAS | China |
| Kun Song | Qilu Hospital of Shandong University | China |
| Ladislav Rampášek | Université de Montréal | Canada |
| Laura Rabes | Hospital Universitario de La Princesa | Spain |
| LauraAdán Lirola | Hospital Universitario de La Princesa | Spain |
| Lawrence Benson | University of Potsdam | Germany |
| Lei Wang | ICT CAS | China |
| Lei Zhang | University Of Hong Kong | China |
| Leila Arras | Fraunhofer Heinrich Hertz Institute | Germany |
| Leon Papke | University of Potsdam | Germany |
| Leonardo Adrián Medrano | Pontificia Universidad Católica Madre y Maestra | República Dominicana |
| Li Chen | Shanghai AI Laboratory | China |
| Liang Xu | CLUE | USA |
| Lucas Bulgarelli | MIT | USA |
| Luciana Sofía Moretti | Pontificia Universidad Católica Madre y Maestra | República Dominicana |
| Luke D. Smillie1 | The University of Melbourne | Australia |
| Luyi Qu | East China Normal University | China |
| Makoto Takamoto | NEC Labs Europe | Germany |
| Mallikarjun Shankar | Oak Ridge National Laboratory | USA |
| Manuel Gomes | University College London | UK |
| Marcia J. Simmering | Louisiana Tech University | USA |
| Mariana-Iuliana Georgescu | University of Bucharest | Romania |
| Marijana Vukčević | University Business Academy in Novi Sad | Serbia |
| Mark Mazumder | Harvard University | USA |
| Marta R. Costa-jussà | facebook | USA |
| Martin Aumuller | IT University of Copenhagen | Denmark |
| Mathias Niepert | University of Stuttgart | Germany |
| MATT GARDNER | Microsoft | USA |
| Matthew Finlayson | The Allen Institute for AI | USA |
| Mauricio Federico Zalazar-Jaime | Universidad Siglo 21 | Argentina |
| Mehdi Cherti | Research Center Juelich | Germany |
| Mei-Hsin Su | China Medical University | China |
| Michael J Soules | The Pennsylvania State University | USA |
| Michael J. Franklin | University of Chicago | USA |
| Mihaly Varadi | EMBL-EBI | UK |
| Milja Orlandic | University Business Academy in Novi Sad | Serbia |
| Minh-Hoang Nguyen | Phenikaa University | Viet Nam |
| Myura Nagendran | Imperial College London | UK |
| Nan Duan | Microsoft | USA |
| Nawal Louzi | Al-Ahliyya Amman University | Jordan |
| Nikhil Srinivas | Arizona State University | USA |
| Niklas Muennighoff | Hugging Face | USA |
| Nikos Bozionelos | EMLyon Business School | France |
| Nils Reimers | cohere.ai | Canada |
| Nouamane Tazi | Hugging Face | USA |
| Oleg Rokhlenko | Amazon | USA |
| Onur Celebi | facebook | USA |
| Parvaneh Saeidi | Universidad Tecnologica Indoamerica | Ecuador |
| Paul A. Friedman | Mayo Clinic School of Graduate Medical Education | USA |
| Paul Sumedrea | SecurifAI | Romania |
| PRAMODINI D V | PESSE | India |
| Qiuping Jiang | Ningbo University | China |
| Quan-Hoang Vuong | Phenikaa University | Viet Nam |
| Radha Mohan | Chinmaya Vishwa vidhyapeeth | India |
| Rajbir Kaur | Govt Girls College | India |
| Ralph A. Nixon | Nathan S. Kline Institute for Psychiatric Research | USA |
| Ramez Abubakr Badeeb | Nottingham University | UK |
| Richard Vencu | UC Berkeley | USA |
| Roberto Martín-Martín | Stanford University | USA |
| Romain Beaumont | LAION | USA |
| Rong Zhang | East China Normal University | China |
| Rong-Jun Qin | Nanjing University | China |
| Roseanne W McManus | The Pennsylvania State University | USA |
| Ross Wightman | Stability AI | USA |
| Rou-Yi Lai | China Medical University | China |
| Roy Vallejo | Hospital Universitario de La Princesa | Spain |
| Rui Shi | Boston college | USA |
| Ruibin Yuan | Beijing Academy of Artificial Intelligence | China |
| Ruixiang Cui | Microsoft | USA |
| Runsheng Xu | University of California Los Angeles | USA |
| Ruochen Wang | University of California Los Angeles | USA |
| Ruohan Zhang | Stanford University | USA |
| Sadia Samar Ali | King Abdul-Aziz University | Saudi Arabia |
| Sameer Velankar | EMBL-EBI | UK |
| Samuel Harper | University of York | UK |
| Samuel Kounev | University of Würzburg | Germany |
| Sanjana Srivastava | Stanford University | USA |
| Satish Kumar Singh | India and Indian Statistical Institute | India |
| Sean D. Mooney | Vanderbilt University Medical Center | USA |
| Seungmin Lee | Kwangwoon University | Korea |
| Shahbaz Khan | GLA University | India |
| Sharon Esquerre Botton | Universidad de Lima | Peru |
| Shengping Yang | Pennington Biomedical Research Center | USA |
| ShenYuongWong | Xiamen University Malaysia | Malaysia |
| Shervin Malmasi | Amazon | USA |
| Shi-Heng Wang | China Medical University | China |
| Shiv Ram Dubey | Indian Institute of Information Technology | India |
| Shu Su | Xi'an Jiaotong University | China |
| Shuiwang Ji | Texas A&M University | USA |
| Shurui Gui | Texas A&M University | USA |
| Songqiao Han | Shanghai University of Finance and Economics | China |
| Stefano Poponi | Tuscia University | Italy |
| Steven G. Ludeke | University of Southern Denmak | Denmark |
| Susanne Schweizer | University of New South Wales | Australia |
| Swaroop Mishra | Arizona State Univeristy | USA |
| Taimoor Hassan | Nanjing University of Science and Technology | China |
| Tam-Tri Le | Phenikaa University | Viet Nam |
| Tatjana Janovac | University Business Academy in Novi Sad | Serbia |
| Tianfan Fu | Georgia Institute of Technology | USA |
| Tilmann Rabl | University of Potsdam | Germany |
| Timothy F. Bainbridge | The University of Melbourne | Australia |
| Timothy Praditia | University of Stuttgart | Germany |
| Tony Hey | Rutherford Appleton Laboratory | UK |
| Tudor Mare | MBZ University of Artificial Intelligence | UAE |
| Tugba Ay | Turkish Ministry of National Education | Turkey |
| Vijay Janapa Reddi | Harvard University | USA |
| Vijay Prakash Dwivedi | Nanyang Technological University | Singapore |
| Vivek Subbiah | The University of Texas MD Anderson Cancer Center | USA |
| Wai-Kay Seto | University Of Hong Kong | China |
| Wanjun Zhong | Microsoft | USA |
| Wanling Gao | ICTCAS | China |
| Weixin Liang | Stanford University | USA |
| Wenguang Chen | Tsinghua University | China |
| Wenhao Gao | MIT | USA |
| William CW Wong | University Of Hong Kong | China |
| Wojciech Samek | Fraunhofer Heinrich Hertz Institute | Germany |
| Wolfgang Lutz | University of Trier | Germany |
| Xian Sun | AIRCAS | China |
| Xiaodan Liang | Huawei | China |
| Xiaoling Huang | Zhejiang University | China |
| Xihan Liu | Qilu Hospital of Shandong University | China |
| Xiner Li | Texas A&M University | USA |
| Xingyuan Zhang | Polixir Technologies | China |
| Xiwen Liang | Sun Yat-Sen University | China |
| Xiyang Hu | Carnegie Mellon University | USA |
| Xue Jiang | Shanghai Jiao Tong University | China |
| Xue Yang | Shanghai Jiao Tong University | China |
| Yan Ma | Anhui University | China |
| Yan Yan | Zhejiang University | China |
| Yang Li | Shanghai AI Laboratory | China |
| Yang Yu | Nanjing University | China |
| Yao Yan | Sage Bionetworks | USA |
| Yatao Li | ICTCAS | China |
| Ying Jiang | Nathan S. Kline Institute for Psychiatric Research | USA |
| Yinghao Ma | Queen Mary University of London | UK |
| Yizhi Li | University of Sheffield | UK |
| Yong Kyoung Yoo | Kwangwoon University | Korea |
| Yongheng Liu | Peng Cheng National Laboratory | China |
| Younggun Cho | Inha University | Korea |
| Yue Zhou | Shanghai Jiao Tong University | China |
| Yuese Gu | Ningbo University | China |
| Yuhao Kang | University of Chicago | USA |
| Yuming Li | East China Normal University | China |
| Zachi I. Attia | Mayo Clinic College of Medicin | USA |
| Zeeshan Khan | Curtin University Malaysia | Malaysia |
| Zheng Wang | ICTCAS | China |
| Zhengzheng Tu | Anhui University | China |
| Zhenzhong Lan | Westlake University | China |
| Zhixiang Ren | Peng Cheng National Laboratory | China |
| Zhiyu Wan | University of Washington | USA |
| Zhongyuan Wang | Wuhan University | China |
| Zoilo Emilio García-Batista | Pontificia Universidad Católica Madre y Maestra | República Dominicana |
Top Bench Institutions
| Institution | Country |
| --- | --- |
| AIRCAS | China |
| Al-Ahliyya Amman University | Jordan |
| Amazon | USA |
| Anhui University | China |
| Arizona State Univeristy | USA |
| Arizona State University | USA |
| Bavarian Center for Cancer Research | Germany |
| Beijing Academy of Artificial Intelligence | China |
| Better Inc | USA |
| Boston college | USA |
| Carnegie Mellon University | USA |
| China Medical University | China |
| Chinmaya Vishwa vidhyapeeth | India |
| CLUE | USA |
| cohere.ai | Canada |
| Curtin University Malaysia | Malaysia |
| DATEV eG | Germany |
| DeepMind | UK |
| East China Normal University | China |
| EIP Pharma Inc | USA |
| EMBL-EBI | UK |
| EMLyon Business School | France |
| European Medicines Agency | Netherlands |
| European University of Lefke | Turkey |
| facebook | USA |
| Fraunhofer Heinrich Hertz Institute | Germany |
| Gentec Data | USA |
| Georgia Institute of Technology | USA |
| GLA University | India |
| Google | USA |
| Govt Girls College | India |
| Harvard University | USA |
| Hewlett Packard Enterprise | USA |
| Hospital Universitario de La Princesa | Spain |
| Huawei | China |
| Hugging Face | USA |
| ICT CAS | China |
| ieso | UK |
| Imperial College London | UK |
| India and Indian Statistical Institute | India |
| Indian Institute of Information Technology | India |
| Inha University | Korea |
| IT University of Copenhagen | Denmark |
| KAIST | Korea |
| King Abdul-Aziz University | Saudi Arabia |
| Kwangwoon University | Korea |
| LAION | USA |
| Louisiana Tech University | USA |
| Mayo Clinic College of Medicin | USA |
| Mayo Clinic School of Graduate Medical Education | USA |
| MBZ University of Artificial Intelligence | United Arab Emirates |
| McMaster University | Canada |
| Microsoft | USA |
| MIT | USA |
| Multimedia University | Malaysia |
| Nanjing University | China |
| Nanjing University of Science and Technology | China |
| Nanyang Technological University | Singapore |
| Nathan S. Kline Institute for Psychiatric Research | USA |
| NEC Labs Europe | Germany |
| New York University | USA |
| Niccol`o Cusano University | Italy |
| Ningbo University | China |
| Nottingham University | UK |
| Oak Ridge National Laboratory | USA |
| Peng Cheng National Laboratory | China |
| Pennington Biomedical Research Center | USA |
| PESSE | India |
| Phenikaa University | Vietnamese |
| Polixir Technologies | China |
| Pontificia Universidad Católica Madre y Maestra | Dominican Republic |
| Qilu Hospital of Shandong University | China |
| Queen Mary University of London | UK |
| Research Center Juelich | Germany |
| Rutherford Appleton Laboratory | UK |
| Sage Bionetworks | USA |
| SecurifAI | romania |
| Shanghai AI Laboratory | China |
| Shanghai Jiao Tong University | China |
| Shanghai Jiao tong University | China |
| Shanghai University of Finance and Economics | China |
| Skyline University College | United Arab Emirates |
| Stability AI | USA |
| Stanford University | USA |
| Sun Yat-Sen University | China |
| Technical University of Munich | Germany |
| Texas A&M University | USA |
| The Allen Institute for AI | USA |
| The Chinese University of Hong Kong_Shenzhen | China |
| The Hebrew University of Jerusalem Mount Scopus | Israel |
| the Hospital for Sick children | Canada |
| The Ohio State University | USA |
| The Pennsylvania State University | USA |
| The University of Melbourne | Australian |
| The University of Texas MD Anderson Cancer Center | USA |
| Tsinghua University | China |
| Turkish Ministry of Health | Turkey |
| Turkish Ministry of National Education | Turkey |
| Tuscia University | Italy |
| UC Berkeley | USA |
| United States Food and Drug Administration | USA |
| Universidad Autónoma de Madrid | Spain |
| Universidad de Lima | Peru |
| Universidad Miguel Hernandez de Elche | Spain |
| Universidad Siglo 21 | Argentina |
| Universidad Tecnologica Indoamerica | Ecuador |
| University Business Academy in Novi Sad | Serbia |
| University College London | UK |
| University of Amsterdam | Netherlands |
| University of Bucharest | romania |
| University of California Los Angeles | USA |
| University of California San Diego | USA |
| University of cambridge | UK |
| University of Chicago | USA |
| University of Copenhagen | Denmark |
| University of Gronigen | Netherlands |
| University Of Hong Kong | China |
| University of Montana | USA |
| University of New South Wales | Australian |
| University of Notre Dame | USA |
| University of Orleans | France |
| University of Oxford | UK |
| University of Potsdam | Germany |
| University of Regensburg | Germany |
| University of Sheffield | UK |
| University of South Florida | USA |
| University of Southampton | UK |
| University of Southern Denmak | Denmark |
| University of Stuttgart | Germany |
| University of Texas at Austin | USA |
| University of Trier | Germany |
| University of Washington | USA |
| University of Wisconsin_Madison | USA |
| University of Würzburg | Germany |
| University of York | UK |
| Université de Montréal | Canada |
| Usk€udar University | Turkey |
| Vanderbilt University Medical Center | USA |
| Westlake University | China |
| Wuhan University | China |
| Xiamen University | China |
| Xiamen University Malaysia | Malaysia |
| Xi'an Jiaotong University | China |
| Zhejiang University | China |
Top Bench Countries
| Ranking | Country |
| --- | --- |
| 1 | Argentina |
| 2 | Australia |
| 3 | Canada |
| 4 | China |
| 5 | Denmark |
| 6 | Ecuador |
| 7 | France |
| 8 | Germany |
| 9 | India |
| 10 | Israel |
| 11 | Italy |
| 12 | Jordan |
| 13 | Korea |
| 14 | Malaysia |
| 15 | Netherlands |
| 16 | Peru |
| 17 | República Dominicana |
| 18 | Romania |
| 19 | Saudi Arabia |
| 20 | Serbia |
| 21 | Singapore |
| 22 | Spain |
| 23 | Turkey |
| 24 | UAE |
| 25 | UK |
| 26 | USA |
| 27 | Viet Nam |