Notice: The current evaluation report is intended solely for the purpose of soliciting comments. The team kindly requests your valuable feedback and suggestions. We are committed to continuously revising the report based on the available evidence.
Background
The evolution of chip technology indeed represents a remarkable trajectory, originating from the advent of computers in the 1940s. The revolutionary concept of integrated circuits, which significantly transformed the field, can be traced back to the genesis of Boolean algebra in 1854. This innovative idea of symbolizing logical operations via binary digits established the cornerstone for contemporary digital circuits. Over subsequent decades, the progression of chip development has burgeoned into an extensive industry and ecosystem. The advancements in semiconductor manufacturing technology have facilitated the production of progressively miniaturized yet more potent chips, with transistor dimensions now quantified in nanometers. This incessant trend towards miniaturization has catalyzed an exponential augmentation in computing power, fostering breakthroughs in diverse domains such as artificial intelligence, mobile technology, and the Internet of Things.
Evaluation Standards
We single out the latest Chip achievements from 2022 to 2023 which already have growing impacts or would have impacts in the near future. Our evaluation criteria are as follows:
The original or pioneering works in chips.
The works that play a significant role in promoting the development of chips.
The works that would have impacts in the near future disscused by the committee, for example, publishing high quality papers and being gained attention.
Chip100: Top 100 Chips achievements (2022-2023)
Overview of Top Chips achievements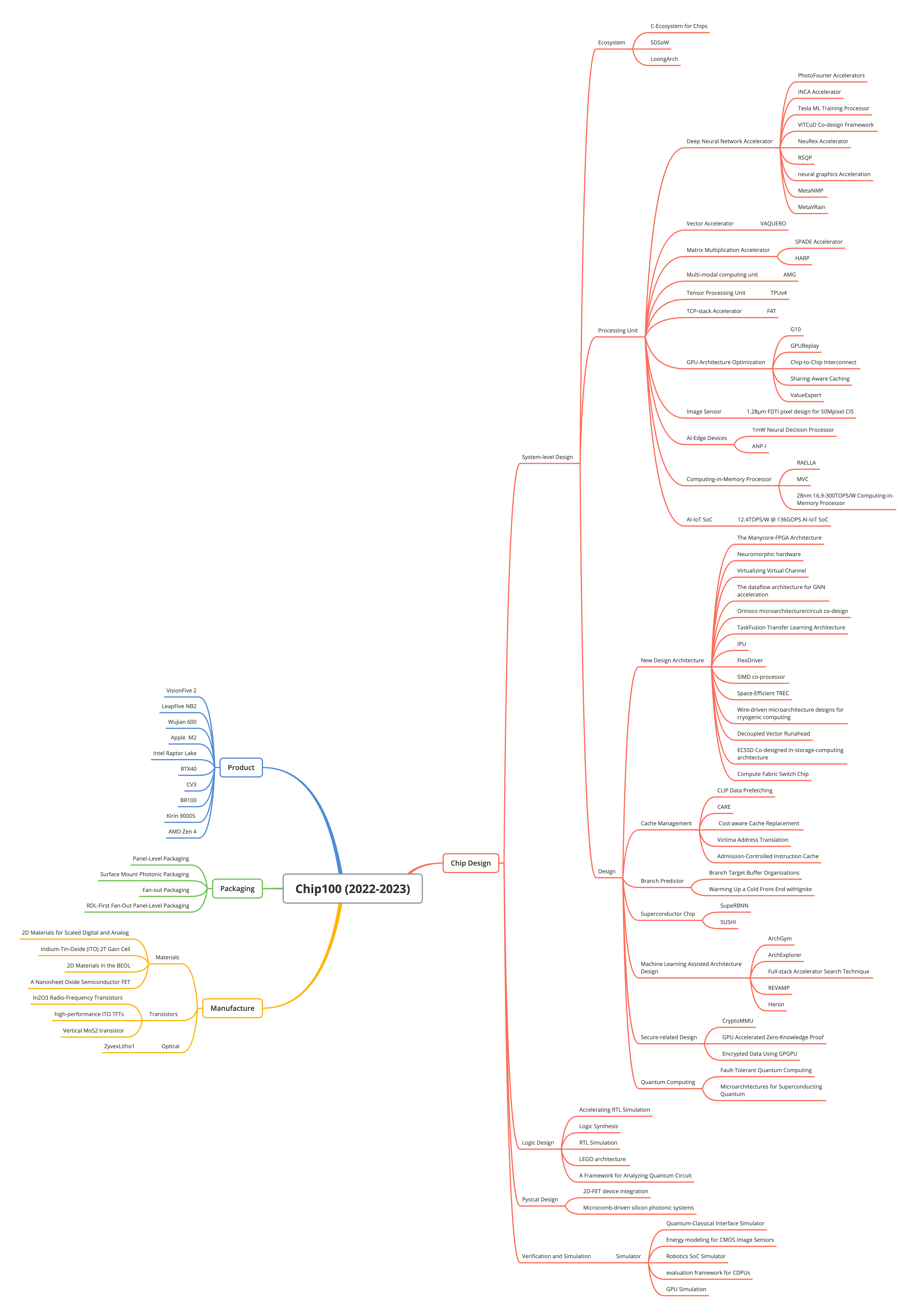 Top Chips Achievements
When considering the main academic contributors, we only list:
the first author (including the authors with equal contribution)
the corresponding author (the last author if there is no corresponding author)
If you have any comments or suggestions about the list, please send an email to benchcouncil.evaluation@gmail.com
Categories
Sub-Categories
Work
Main Contributors
Institution
Country
Chips Design
System-level Design
PhotoFourier Deep Neural Network Accelerator
Shurui Li, Puneet Gupta
UCLA
USA
INCA Deep Neural Network Accelerator
Bokyung Kim,Hai Li
Duke University
USA
Admission-Controlled Instruction Cache
Yunjin Wang, Niranjan Soundararajan
The Pennsylvania State University,Intel Labs
USA,India
Vision Transformers Accelerator
Haoran You, Yingyan Lin
Georgia Institute of Technology
USA
The Manycore-FPGA Architecture
Ang Li, David Wentzlaff
Princeton
USA
Virtualizing Virtual Channel
Hans Kasan, John Kim
KAIST
Korea
The dataflow architecture for GNN acceleration
Rishov Sarkar, Cong Hao
Georgia Institute of Technology
USA
CARE Cache Management
Xiaoyang Lu, Xian-He Sun
Illinois Institute of Technology
USA
VAQUERO Vector Accelerator
Julian Pavon, Adrian Cristal
Barcelona Supercomputing Center,Universitat Politecnica de Catalunya
Spain
TaskFusion Transfer Learning Architecture
Zichen Fan, Dennis Sylvester
University of Michigan
USA
Microarchitecture/circuit co-design
Dibei Chen,Leibo Liu
Tsinghua University
China
Machine Learning Assisted Architecture Design
Srivatsan Krishnan,Vijay Janapa Reddi
Harvard University
USA
SDSoW
Jiangxing Wu
NDSC
China
C-Ecosystem for Chips
Ninghui Sun
ICT
China
LoongArch
weiwu Hw
Loongson,ict
China
SPADE Matrix Multiplication Accelerator
Gerasimos Gerogiannis, Josep Torrellas
UIUC
USA
NeuRex Neural Rendering Acceleration
Junseo Lee, Jaewoong Sim
Seoul National University
Korea
RAELLA Processing-In-Memory
Tanner Andrulis, Vivienne Sze
MIT
USA
AMG Multi-modal computing unit
Xiaofeng Hou, Chao Li, Kwang-Ting Cheng
ACCESS, Shanghai Jiao Tong University
China
TPUv4
Norman P. Jouppi, David Patterson
Google
USA
RSQP General-purpose Quadratic Program Solver
Maolin Wang, Hayden Kwok-Hay So
AI Chip Center for Emerging Smart Systems, University of Hong Kong
China
Neural graphics Acceleration
Muhammad Husnain Mubarik, Rakesh Kumar
UIUC
USA
ECSSD Co-designed in-storage-computing architecture
Siqi Li, Yuan Xie
UCSB, DAMO Academy
China.USA
Sharing-Aware Caching in GPU
Shiqing Zhang, Lieven Eeckhout
Ghent University
Belgium
FPGA-based full-stack TCP acceleration framework
Junehyuk Boo, Jangwoo Kim
Seoul National University, MangoBoost Inc
Korea
HGNNs accelerator
Dan Chen, Long Zheng
Huazhong University of Science and Technology
China
Cost-aware Cache Replacement
Nayana Prasad Nagendra, Bhargav Reddy Godala, David I. August
Princeton University
USA
Decoupled Vector Runahead
Ajeya Naithani, Lieven Eeckhout
Ghent University
Belgium
CryptoMMU
Faiz Alam, Amro Awad
North Carolina State University
USA
Branch Target Buffer Organizations
Arthur Perais, Rami Sheikh
CNRS, ARM
UK,France
Warming Up a Cold Front-End withIgnite
David Schall, Boris Grot
University of Edinburgh
UK
MicroarchitectureExploration Via Bottleneck Analysis
Chen Bai, Yuan Xie
The Chinese University of HongKong, Alibaba
China
Efficient Unified GPU Memory and Storage Architecture
Haoyang Zhang, Jian Huang
UIUC
USA
Compute Fabric Switch Chip
Lixin Zhang
Sudo Information Technology
China
Fault-Tolerant Quantum Computing
Suhas Vittal, Moinuddin Qureshi
Georgia Inst. of Technology
USA
SupeRBNN Superconductor Accelerator
Zhengang Li, OliviaChen
Northeastern University, Tokyo City University
USA,Japan
SUSHI Superconductor Chip
Zeshi Liu, GuangMing Tang, Haihang You
ICT
China
Microarchitectures for Superconducting Quantum
Samuel Stein, Michael DeMarco
Pacific Northwest National Laboratory, MIT
USA
Data Prefetching
Biswabandan Panda
Indian Institute of Technology Bombay
India
MVC Processing in Memory
Daichi Fujiki
Keio University
Japan
HARP Sparse Matrix MultiplicationAccelerator
Jinkwon Kim, Soontae Kim
KAIST
koera
Victima AddressTranslation
Konstantinos Kanellopoulos, Onur Mutlu
ETH Zürich
Switzerland
MetaVRain 3D-NeRF Processor
Donghyeon Han, Hoi-Jun Yoo
Korea Advanced Institute of Science and Technology
Koera
1.28μm 50Mpixel CMOS Image Sensor
Hyuncheol Kim, JoonSeo Yim
Samsung Electronics
Koera
Chip-to-Chip Interconnect
Ying Wei, Edward Lee
Nvidia
USA
IPU
Naru Sundar, Nupur Jain
Intel
USA
1mW Neural Decision Processor
David Garrett, Atul Gupta
Syntiant
USA
28nm 16.9-300TOPS/W Computing-in-Memory Processor
Jinshan Yue, Ming Liu
Institute of Microelectronics of the Chinese Academy of Sciences
China
12.4TOPS/W @ 136GOPS AI-IoT SoC
Francesco Conti, Luca Benini
University of Bologna, ETH Zürich
Italy, Switzerland
Tesla ML Training Processor
Tim C. Fischer, Te-Chen Tsai
Tesla
USA
ANP-I Edge-AI Processor
Jilin Zhang, Hong Chen
Tsinghua University
China
ValueExpert GPU-accelerated

Keren Zhou, Xu Liu
Rice University, North Carolina State University
USA
Full-stack Accelerator Search Technique
Dan Zhang, Azalia Mirhoseini
Google
USA
GPUReplay
Heejin Park, Felix Xiaozhu Lin
Purdue University, University of Virginia
USA
FlexDriver network connecting
Haggai Eran, Mark Silberstein
NVIDIA, Technion
Israel
Encrypted Data Using GPGPU
Shengyu Fan, Rui Hou, Dan Meng, Mingzhe Zhang
Institute of Information Engineering
China
Wire-driven microarchitecture designs for cryogenic computing
Dongmoon Min, Jangwoo Kim
Seoul National University
Koera
automated design space exploration
Thilini Kaushalya Bandara, Li-Shiuan Peh
National University of Singapore
Singapore
Space-Efficient TREC
Jiesong Liu, Xipeng Shen
Renmin University of China, North Carolina State University
China,USA
Neuromorphic hardware
Ouwen Jin, Gang Pan
Zhejiang University
China
SIMD co-processor
Zhongcheng Zhang, Yan Ou, Ying Liu
ICT,HiSilicon Technologies Company, Zhongguancun Laboratory
China
GPU Accelerated Zero-Knowledge Proof
Weiliang Ma, Qian Xiong, Xuanhua Shi
Huazhong University of Science and Technology
China
Automatically Constrained High-Performance Library Generation
Jun Bi, Qi Guo
ICT
China
logic Design
Accelerating RTL Simulation
Fares Elsabbagh, Daniel Sanchez
MIT
USA
Logic Synthesis
Ceyu Xu, Lisa Wu Wills
Duke
USA
RTL Simulation
Kexing Zhou, Ru Huang
Peking University
China
LEGO architecture
Chong Zhang, Li Lu, Hongzi Zhu
University of Electronic Science and Technology of China,Shanghai Jiao Tong University
China
A Framework for Analyzing Quantum Circuit
Siwei Tan, Jianwei Yin
Zhejiang University
China
Pysical Design
2D-FET device integration
S. Kundu, G. S. Kar
IMEC
Belgium
Microcomb-driven silicon photonic systems
Haowen Shu, Lin Chang, Yuansheng Tao, Bitao Shen, Xingjun Wang, John E. Bowers
Peking University, UCSB
China,USA
Verification and Simulation
Quantum-Classical Interface Simulator
Dongmoon Min, Jangwoo Kim
Seoul National University
Korea
Energy modeling for CMOS Image Sensors
Tianrui Ma, Yu Feng,Xuan Zhang, Yuhao Zhu†
Washington University, University of Rochester
USA
Robotics SoC Simulator
Dima Nikiforov,Yakun Sophia Shao
UC Berkeley
USA
Evaluation framework for CDPUs
Sagar Karandikar, Parthasarathy Ranganathan
UC Berkeley, Google
USA
Photon GPU Simulation
Changxi Liu, TrevorE. Carlson
National University of Singapore
Singapore
Manufacture
Materials
2D Materials for Scaled Digital and Analog
Devin Verreck, Gouri Sankar Kar
IMEC
Belgium
Indium-Tin-Oxide (ITO) 2T Gain Cell
Kasidit Toprasertpong, H.-S. Philip Wong
Stanford University, the University of Tokyo
USA,Japan
2D Materials in the BEOL
C. H. Naylor, M. Metz
Intel
USA
A Nanosheet Oxide Semiconductor FET
Kaito Hikake, Masaharu Kobayashi
The University of Tokyo
Japan
Transistors
In2O3 Radio-Frequency Transistors
Dongqi Zheng, Peide D. Ye
Purdue University
USA
high-performance ITO TFTs
Yuye Kang, Xiao Gong
National University of Singapore
Singapore
Vertical MoS2 transistor
Fan Wu, He Tian, Yang Shen, Tian-Ling Ren
Tsinghua University
China
Optical
ZyvexLitho1
Zyvex
USA
Packaging
Panel-Level Packaging
John H. Lau, Tzyy-Jang Tseng
Unimicron Technology Corporation
China
Surface Mount Photonic Packaging
Lars Brusberg, Robert A. Bellman
Corning Research and Development Corporation
USA
Fan-out Packaging
Laurene Yip, Cooper Peng
MediaTek Inc
China
RDL-First Fan-Out Panel-Level Packaging

Chang-Chun Lee, Chin-Yi Chen
National Tsing Hua University
China
Product
VisionFive 2
StarFive
China
LeapFive NB2
LeapFive
China
Wujian 600
Alibaba
China
Apple M2
Apple
USA
Intel Raptor Lake
Intel
USA
RTX40
Nvidia
USA
CV3
Ambarella
USA
BR100
BIRENTECH
China
Kirin 9000S
Huawei
China
AMD Zen 4
AMD
USA
Top Chips Contributors
| Contributor | Institution | Country |
| --- | --- | --- |
| Shurui Li | UCLA | USA |
| Puneet Gupta | UCLA | USA |
| Bokyung Kim | Duke University | USA |
| Hai Li | Duke University | USA |
| Yunjin Wang | The Pennsylvania State University | USA |
| Niranjan Soundararajan | Intel Lab | India |
| Haoran You | Georgia Institute of Technology | USA |
| Yingyan Lin | Georgia Institute of Technology | USA |
| Ang Li | Princeton | USA |
| David Wentzlaff | Princeton | USA |
| Hans Kasan | KAIST | Koera |
| John Kim | KAIST | Koera |
| Rishov Sarkar | Georgia Institute of Technology | USA |
| Cong Hao | Georgia Institute of Technology | USA |
| Xiaoyang Lu | Illinois Institute of Technology | USA |
| Xian-He Sun | Illinois Institute of Technology | USA |
| Julian Pavon | Barcelona Supercomputing Center,Universitat Politecnica de Catalunya | Spain |
| Adrian Cristal | Barcelona Supercomputing Center,Universitat Politecnica de Catalunya | Spain |
| Zichen Fan | University of Michigan | USA |
| Dennis Sylvester | University of Michigan | USA |
| Dibei Chen | Tsinghua University | China |
| Leibo Liu | Tsinghua University | China |
| Srivatsan Krishnan | Harvard University | USA |
| Vijay Janapa Reddi | Harvard University | USA |
| Gerasimos Gerogiannis | UIUC | USA |
| Josep Torrellas | UIUC | USA |
| Junseo Lee | Seoul National University | Korea |
| Jaewoong Sim | Seoul National University | Korea |
| Tanner Andrulis | MIT | USA |
| Vivienne Sze | MIT | USA |
| Xiaofeng Hou | ACCESS, Shanghai Jiao Tong University | China |
| Chao Li | ACCESS, Shanghai Jiao Tong University | China |
| Kwang-Ting Cheng | ACCESS, Shanghai Jiao Tong University | China |
| Norman P. Jouppi | Google | USA |
| David Patterson | Google | USA |
| Maolin Wang | AI Chip Center for Emerging Smart Systems, University of Hong Kong | China |
| Hayden Kwok-Hay So | AI Chip Center for Emerging Smart Systems, University of Hong Kong | China |
| Muhammad Husnain Mubarik | UIUC | USA |
| Rakesh Kumar | UIUC | USA |
| Siqi Li | UCSB | USA |
| Yuan Xie | DAMO Academy | China |
| Shiqing Zhang | Ghent University | Belgium |
| Lieven Eeckhout | Ghent University | Belgium |
| Junehyuk Boo | Seoul National University, MangoBoost Inc | Korea |
| Jangwoo Kim | Seoul National University, MangoBoost Inc | Korea |
| Dan Chen | Huazhong University of Science and Technology | China |
| Long Zheng | Huazhong University of Science and Technology | China |
| Nayana Prasad Nagendra | Princeton University | USA |
| Bhargav Reddy Godala | Princeton University | USA |
| David I. August | Princeton University | USA |
| Ajeya Naithani | Ghent University | Belgium |
| Faiz Alam | North Carolina State University | USA |
| Amro Awad | North Carolina State University | USA |
| Arthur Perais | CNRS | France |
| Rami Sheikh | ARM | UK |
| David Schall | University of Edinburgh | UK |
| Boris Grot | University of Edinburgh | UK |
| Chen Bai | The Chinese University of HongKong | China |
| Haoyang Zhang | UIUC | USA |
| Jian Huang | UIUC | USA |
| Suhas Vittal | Georgia Inst. of Technology | USA |
| Moinuddin Qureshi | Georgia Inst. of Technology | USA |
| Zhengang Li | Northeastern University | USA |
| OliviaChen | Tokyo City University | Japan |
| Zeshi Liu | ICT | China |
| GuangMing Tang | ICT | China |
| Haihang You | ICT | China |
| Samuel Stein | Pacific Northwest National Laboratory | USA |
| Michael DeMarco | MIT | USA |
| Ninghui Sun | ICT | China |
| Weiwu Hu | Loongson,ICT | China |
| Biswabandan Panda | Indian Institute of Technology Bombay | India |
| Daichi Fujiki | Keio University | Japan |
| Jinkwon Kim | KAIST | Korea |
| Soontae Kim | KAIST | Korea |
| Konstantinos Kanellopoulos | ETH Zürich | Switzerland |
| Onur Mutlu | ETH Zürich | Switzerland |
| Donghyeon Han | Korea Advanced Institute of Science and Technology | Koera |
| Hoi-Jun Yoo | Korea Advanced Institute of Science and Technology | Koera |
| Hyuncheol Kim | Samsung Electronics | Koera |
| JoonSeo Yim | Samsung Electronics | Koera |
| Ying Wei | Nvidia | USA |
| Edward Lee | Nvidia | USA |
| Naru Sundar | Intel | USA |
| Nupur Jain | Intel | USA |
| David Garrett | Syntiant | USA |
| Atul Gupta | Syntiant | USA |
| Jinshan Yue | Institute of Microelectronics of the Chinese Academy of Sciences | China |
| Ming Liu | Institute of Microelectronics of the Chinese Academy of Sciences | China |
| Francesco Conti | University of Bologna | Italy |
| Luca Benini | ETH Zürich | Switzerland |
| Tim C. Fischer | Tesla | USA |
| Te-Chen Tsai | Tesla | USA |
| Jilin Zhang | Tsinghua University | China |
| Hong Chen | Tsinghua University | China |
| Keren Zhou | Rice University | USA |
| Xu Liu | North Carolina State University | USA |
| Dan Zhang | Google | USA |
| Azalia Mirhoseini | Google | USA |
| Heejin Park | Purdue University | USA |
| Felix Xiaozhu Lin | University of Virginia | USA |
| Haggai Eran | NVIDIA | USA |
| Mark Silberstein | Technion | Israel |
| Shengyu Fan | Institute of Information Engineering | China |
| Rui Hou | Institute of Information Engineering | China |
| Dan Meng | Institute of Information Engineering | China |
| Mingzhe Zhang | Institute of Information Engineering | China |
| Dongmoon Min | Seoul National University | Koera |
| Thilini Kaushalya Bandara | National University of Singapore | Singapore |
| Li-Shiuan Peh | National University of Singapore | Singapore |
| Jiesong Liu | Renmin University of China | China |
| Xipeng Shen | North Carolina State University | USA |
| Ouwen Jin | Zhejiang University | China |
| Gang Pan | Zhejiang University | China |
| Zhongcheng Zhang | ICT | China |
| Yan Ou | Huawei | China |
| Ying Liu | ICT | China |
| Weiliang Ma | Huazhong University of Science and Technology | China |
| Qian Xiong | Huazhong University of Science and Technology | China |
| Xuanhua Shi | Huazhong University of Science and Technology | China |
| Jun Bi | ICT | China |
| Qi Guo | ICT | China |
| Fares Elsabbagh | MIT | USA |
| Daniel Sanchez | MIT | USA |
| Ceyu Xu | Duke University | USA |
| Lisa Wu Wills | Duke University | USA |
| Kexing Zhou | Peking University | China |
| Ru Huang | Peking University | China |
| Chong Zhang | University of Electronic Science and Technology of China | China |
| Li Lu | University of Electronic Science and Technology of China, | China |
| Hongzi Zhu | Shanghai Jiao Tong University | China |
| Siwei Tan | Zhejiang University | China |
| Jianwei Yin | Zhejiang University | China |
| S. Kundu | IMEC | Belgium |
| G. S. Kar | IMEC | Belgium |
| Haowen Shu | Peking University | China |
| Lin Chang | Peking University | China |
| Yuansheng Tao | Peking University | China |
| Bitao Shen | Peking University | China |
| Xingjun Wang | Peking University | China |
| John E. Bowers | UCSB | USA |
| Tianrui Ma | Washington University | USA |
| Yu Feng | University of Rochester | USA |
| Xuan Zhang | Washington University | USA |
| Yuhao Zhu | University of Rochester | USA |
| Dima Nikiforov | UC Berkeley | USA |
| Yakun Sophia Shao | UC Berkeley | USA |
| Sagar Karandikar | UC Berkeley | USA |
| Parthasarathy Ranganathan | Google | USA |
| Changxi Liu | National University of Singapore | Singapore |
| TrevorE. Carlson | National University of Singapore | Singapore |
| Jiangxing Wu | NDSC | China |
| Devin Verreck | IMEC | Belgium |
| Gouri Sankar Kar | IMEC | Belgium |
| Kasidit Toprasertpong | Stanford University, The University of Tokyo | USA |
| H.-S. Philip Wong | Stanford University | USA |
| C. H. Naylor | Intel | USA |
| M. Metz | Intel | USA |
| Kaito Hikake | The University of Tokyo | Japan |
| Masaharu Kobayashi | The University of Tokyo | Japan |
| Dongqi Zheng | Purdue University | USA |
| Peide D. Ye | Purdue University | USA |
| Yuye Kang | National University of Singapore | Singapore |
| Xiao Gong | National University of Singapore | Singapore |
| Fan Wu | Tsinghua University | China |
| He Tian | Tsinghua University | China |
| Yang Shen | Tsinghua University | China |
| Tian-Ling Ren | Tsinghua University | China |
| John H. Lau | Unimicron Technology Corporation | China |
| Tzyy-Jang Tseng | Unimicron Technology Corporation | China |
| Lars Brusberg | Corning Research and Development Corporation | USA |
| Robert A. Bellman | Corning Research and Development Corporation | USA |
| Laurene Yip | MediaTek Inc | China |
| Cooper Peng | MediaTek Inc | China |
| Chang-Chun Lee | National Tsing Hua University | China |
| Chin-Yi Chen | National Tsing Hua University | China |
| Lixin Zhang | Sudo Information Technology | China |
Top Chips Institutions
| Ranking | Institute | Grade | Country |
| --- | --- | --- | --- |
| 1 | Intel | 3.5 | USA |
| 1 | Seoul National University | 3.5 | Korea |
| 2 | ICT,CAS | 3.3 | China |
| 3 | Georgia Institute of Technology | 3 | USA |
| 3 | Tsinghua University | 3 | China |
| 3 | UIUC | 3 | USA |
| 3 | KAIST | 3 | Korea |
| 3 | National University of Singapore | 3 | Singapore |
| 4 | MIT | 2.5 | USA |
| 4 | Nvidia | 2.5 | USA |
| 4 | Google | 2.5 | USA |
| 5 | Ghent University | 2 | Belgium |
| 5 | Huazhong University of Science and Technology | 2 | China |
| 5 | North Carolina State University | 2 | USA |
| 5 | Zhejiang University | 2 | China |
| 5 | IMEC | 2 | Belgium |
| 5 | Princeton | 2 | USA |
| 5 | Alibaba | 2 | China |
| 5 | Duke University | 2 | USA |
| 6 | ETH Zürich | 1.5 | Switzerland |
| 6 | Purdue University | 1.5 | USA |
| 6 | Peking University | 1.5 | China |
| 6 | The University of Tokyo | 1.5 | Japan |
| 6 | UC Berkeley | 1.5 | USA |
| 7 | Huawei | 1.3 | China |
| 8 | Princeton | 1 | USA |
| 8 | Illinois Institute of Technology | 1 | USA |
| 8 | Loongson | 1 | China |
| 8 | AMD | 1 | USA |
| 8 | University of Michigan | 1 | USA |
| 8 | Harvard University | 1 | USA |
| 8 | Shanghai Jiao Tong University | 1 | China |
| 8 | UCLA | 1 | USA |
| 8 | UCSB | 1 | USA |
| 8 | University of Edinburgh | 1 | UK |
| 8 | Indian Institute of Technology Bombay | 1 | India |
| 8 | Keio University | 1 | Japan |
| 8 | Samsung Electronics | 1 | Korea |
| 8 | Syntiant | 1 | USA |
| 8 | Institute of Microelectronics,CAS | 1 | China |
| 8 | Tesla | 1 | USA |
| 8 | Institute of Information Engineering,CAS | 1 | China |
| 8 | NDSC | 1 | China |
| 8 | Zyvex | 1 | USA |
| 8 | Unimicron Technology Corporation | 1 | China |
| 8 | Corning Research and Development Corporation | 1 | USA |
| 8 | MediaTek Inc | 1 | China |
| 8 | National Tsing Hua University | 1 | China |
| 8 | StarFive | 1 | China |
| 8 | LeapFive | 1 | China |
| 8 | Apple | 1 | USA |
| 8 | Ambarella | 1 | USA |
| 8 | ACCESS | 1 | China |
| 8 | BIRENTECH | 1 | China |
| 9 | The Pennsylvania State University | 0.5 | USA |
| 9 | Barcelona Supercomputing Center | 0.5 | Spain |
| 9 | Universitat Politecnica de Catalunya | 0.5 | Spain |
| 9 | University of Hong Kong | 0.5 | China |
| 9 | MangoBoost Inc | 0.5 | Korea |
| 9 | CNRS | 0.5 | France |
| 9 | ARM | 0.5 | UK |
| 9 | The Chinese University of HongKong | 0.5 | China |
| 9 | Northeastern University | 0.5 | USA |
| 9 | Tokyo City University | 0.5 | Japan |
| 9 | Pacific Northwest National Laboratory | 0.5 | USA |
| 9 | University of Bologna | 0.5 | Italy |
| 9 | Rice University | 0.5 | USA |
| 9 | University of Virginia | 0.5 | USA |
| 9 | Technion | 0.5 | Israel |
| 9 | Renmin University of China | 0.5 | China |
| 9 | University of Electronic Science and Technology of China | 0.5 | China |
| 9 | Washington University | 0.5 | USA |
| 9 | University of Rochester | 0.5 | USA |
| 9 | Stanford University | 0.5 | USA |
| 10 | Zhongguancun Laboratory | 0.3 | China |
Top Chips Countries
| Ranking | Country | Grade |
| --- | --- | --- |
| 1 | USA | 41 |
| 2 | China | 30.5 |
| 3 | Korea | 8 |
| 4 | Belgium | 4 |
| 5 | Japan | 3 |
| 5 | Singapore | 3 |
| 6 | UK | 1.5 |
| 6 | India | 1.5 |
| 6 | Switzerland | 1.5 |
| 7 | Spain | 1 |
| 8 | France | 0.5 |
| 8 | Israel | 0.5 |
| 8 | Italy | 0.5 |